We love when creative teams come together to showcase not only our beautiful East Coast, but also to provide brides with inspiration they can re-create for their own bridal look. This bohemian-inspired bridal shoot, set against the backdrop of the glass-like water of Long Lake Provincial Park, is perfect for the bride who isn't afraid to do her own thing and make her look her own.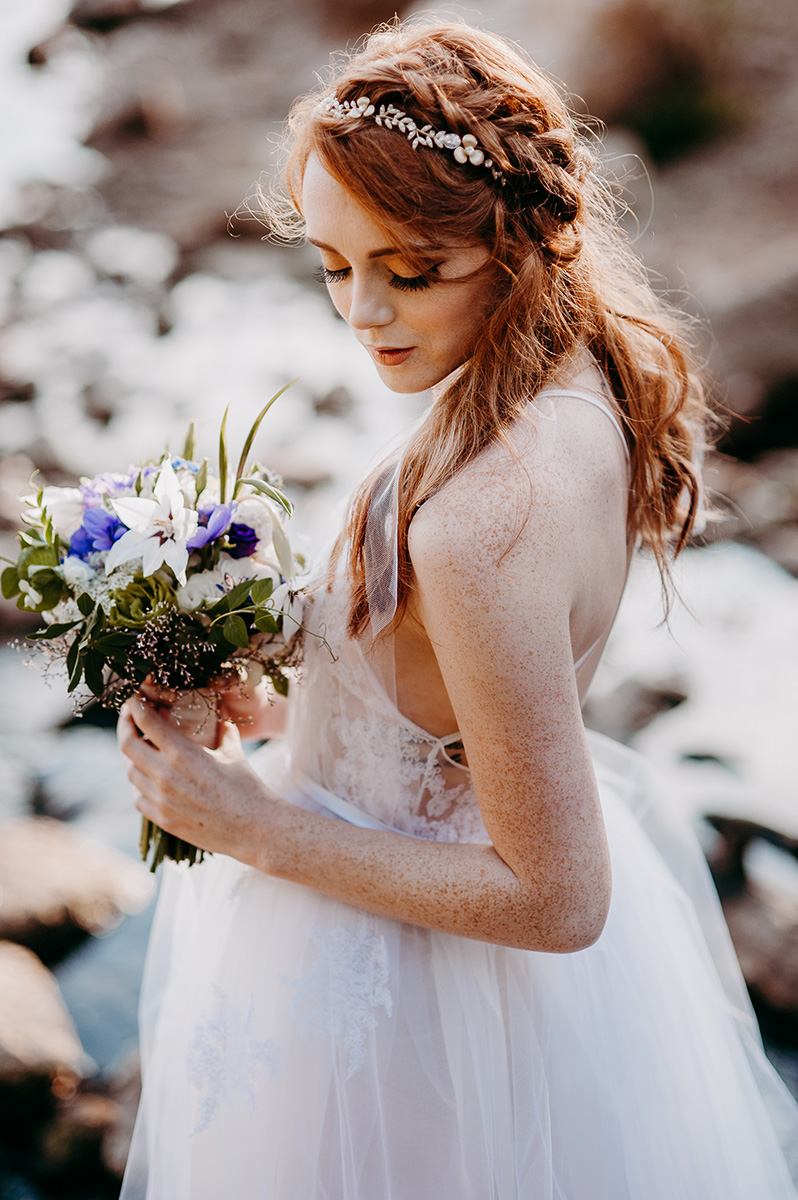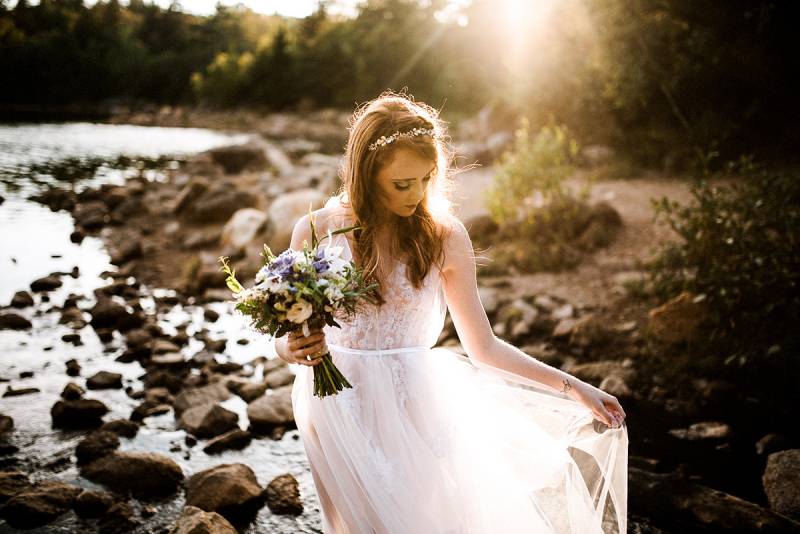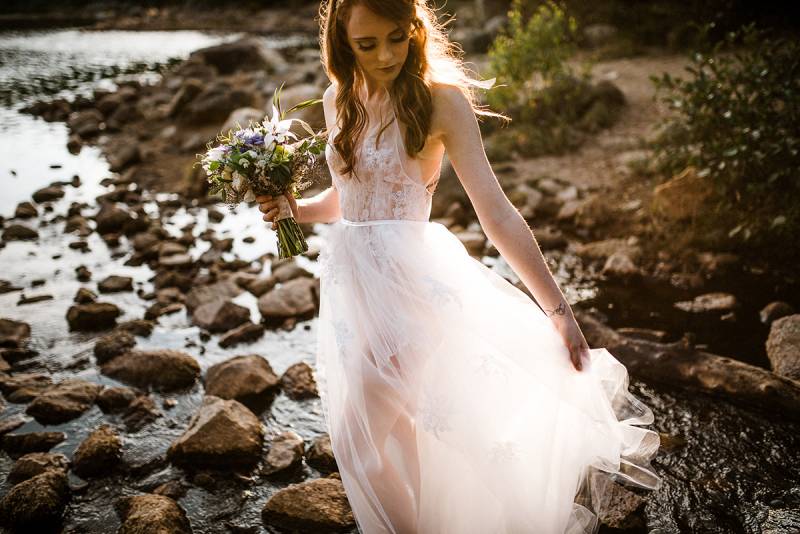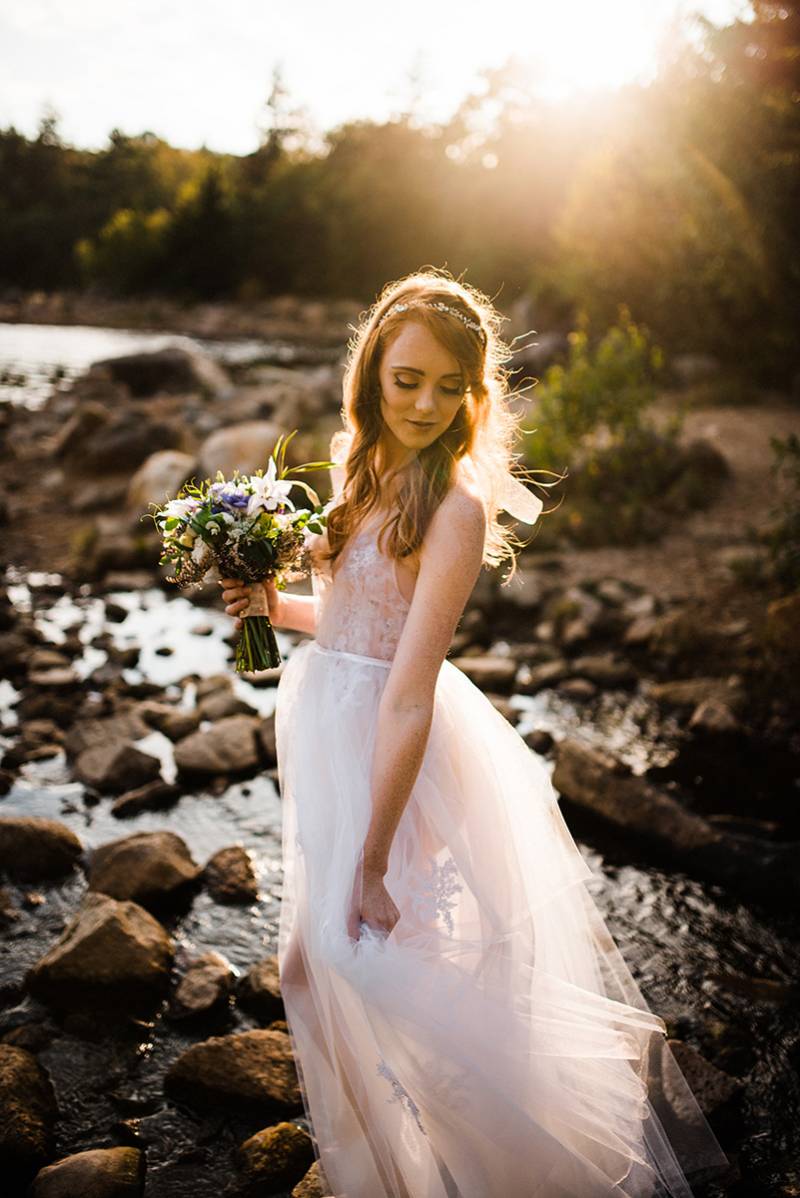 Inspiration
We have such a short season in Nova Scotia where it is really warm. I mean walk-barefoot-in-the-lake warm at eveningtime. We wanted to inspire the bride who is happiest barefoot. The bride who is happiest with her feet wet in the lake. The bride who isn't afraid to get her dress a bit wet. Denise from Barefoot Blooms created a stunning bouquet that was packed with wildflowers and could withstand a hike into Long Lake Provincial Park. She never fails to rise to the occasion and create a beautiful focus point for a wedding or event.
We wanted to highlight the bohemian free spirit of summer. Zipora Hunter and Selena Marchand matched Ashley's hair and make up perfectly to the theme and mood we wanted to capture. They made my job eminently easy.
The ethereal Cyrena Gown is part of Miss Foxine's Meadow Couture Collection; for the bride who prefers wildflowers to roses. This collection includes feminine floral laces and embroideries, flowing silhouettes, and the designers uniquely stunning backs, all hand crafted in Halifax, Nova Scotia, Canada. The gown is inspired by the tapestry of our natural surroundings and handcrafted out of sheer mirrored organza and soft layers of subtly sparkling diamond tulle. Her soft silhouette is hand sewn with beautifully delicate alenšon floral lace and leaves. It has a petite white satin belt, and open cross back with narrow straps. Willowy, and alluringly innocent, this couture gown is perfect for a lakeside inspired wedding - or any bride with an adventurous heart.
The Mariposa Hair Wreath is handcrafted out of three petaled bronze, flowing golden vines, seed pearls, and vintage crystals; gold plated and adorned with sheer organza ribbon to tie. Delicately subtle, this floral beauty is made to be lovingly worn by a bohemian loving bride.