Caitlin and Ben's enchanted forest wedding in Liverpool Nova Scotia is like something out of a fairy tale. The twinkling lights and lush greenery cast a magically spell over their wedding and accentuated their colours of dark blue, black, blush pink, ivory and gold. Read on to learn more about their love story and wedding inspiration, and see the incredible photos from their special day.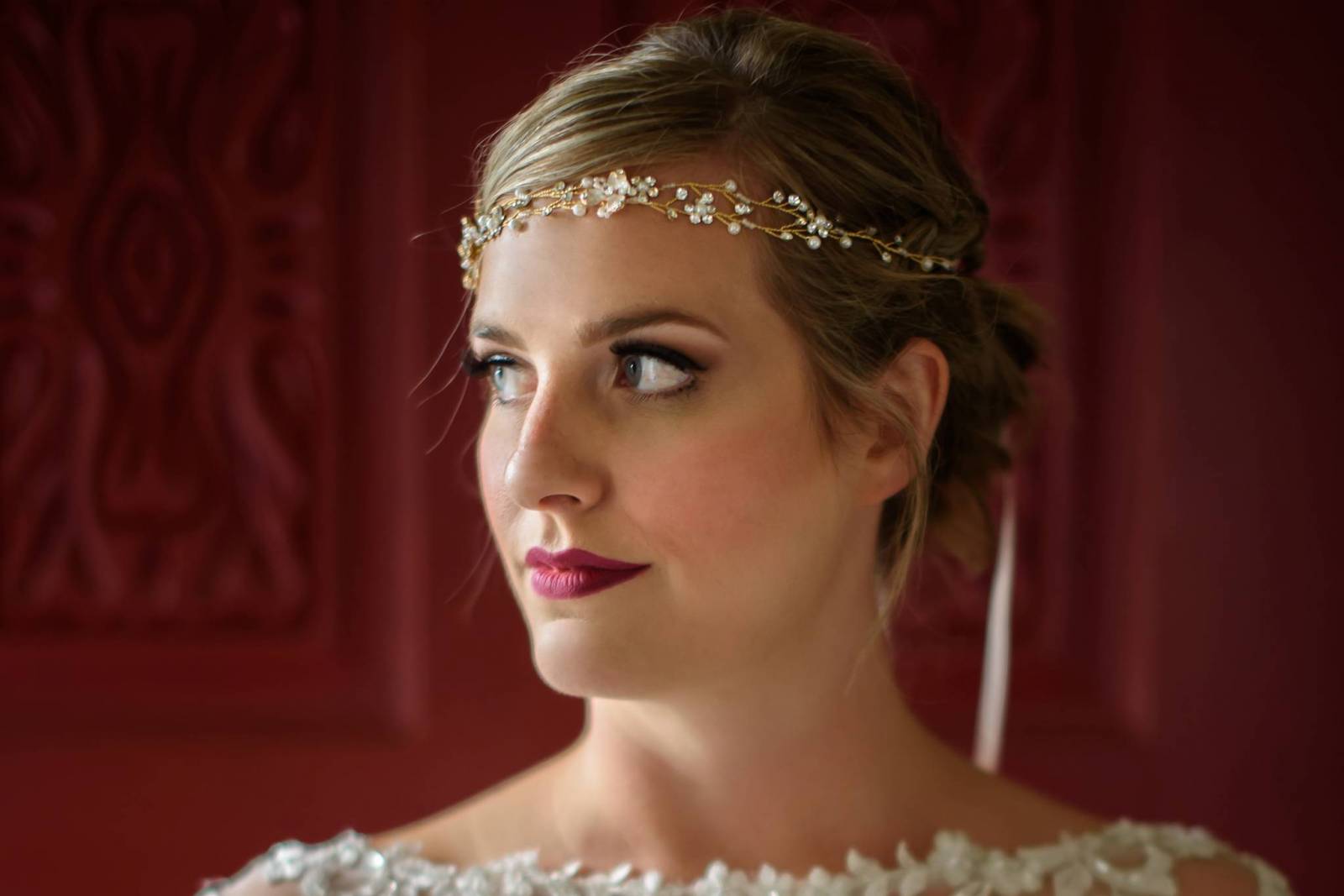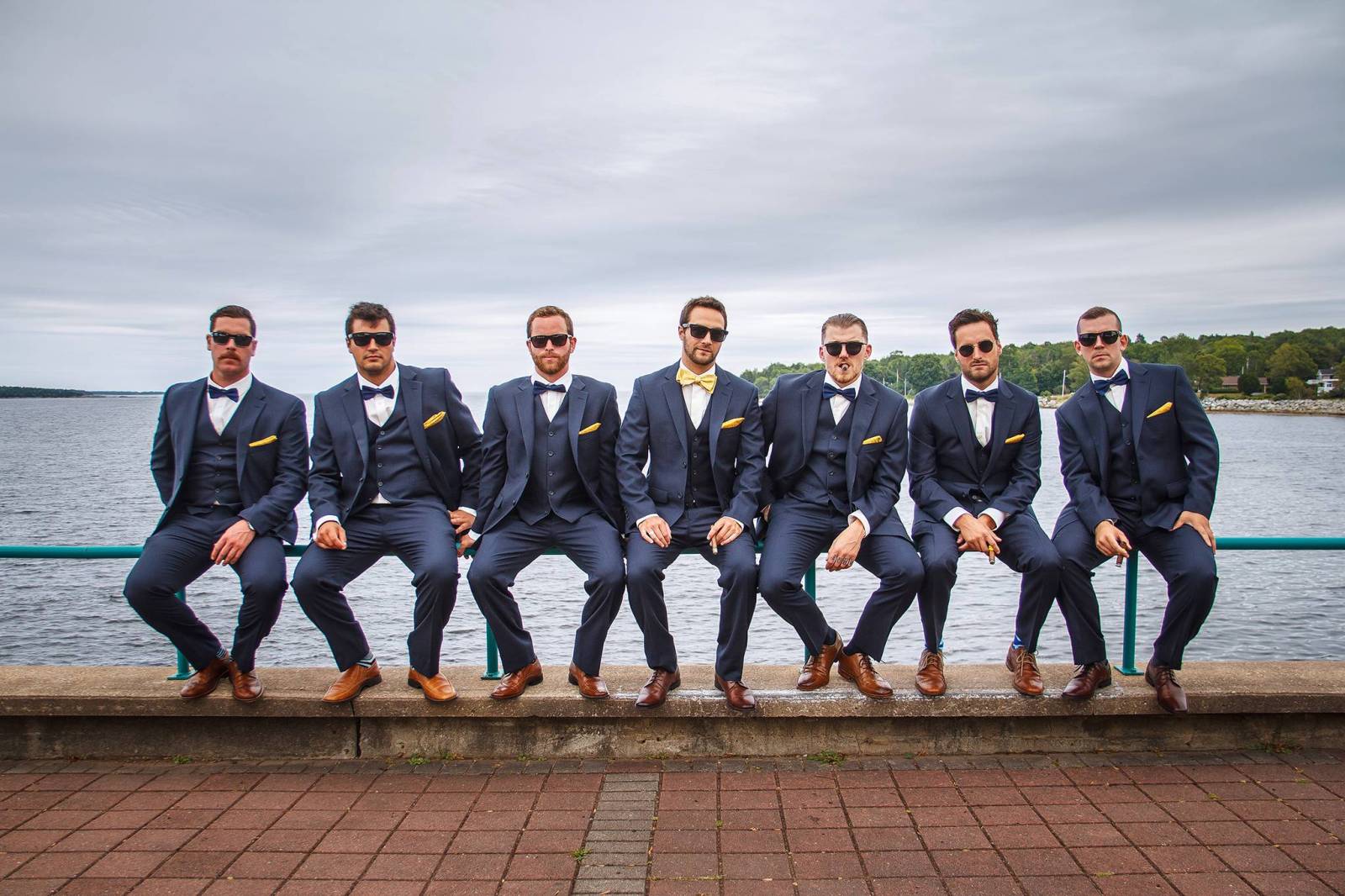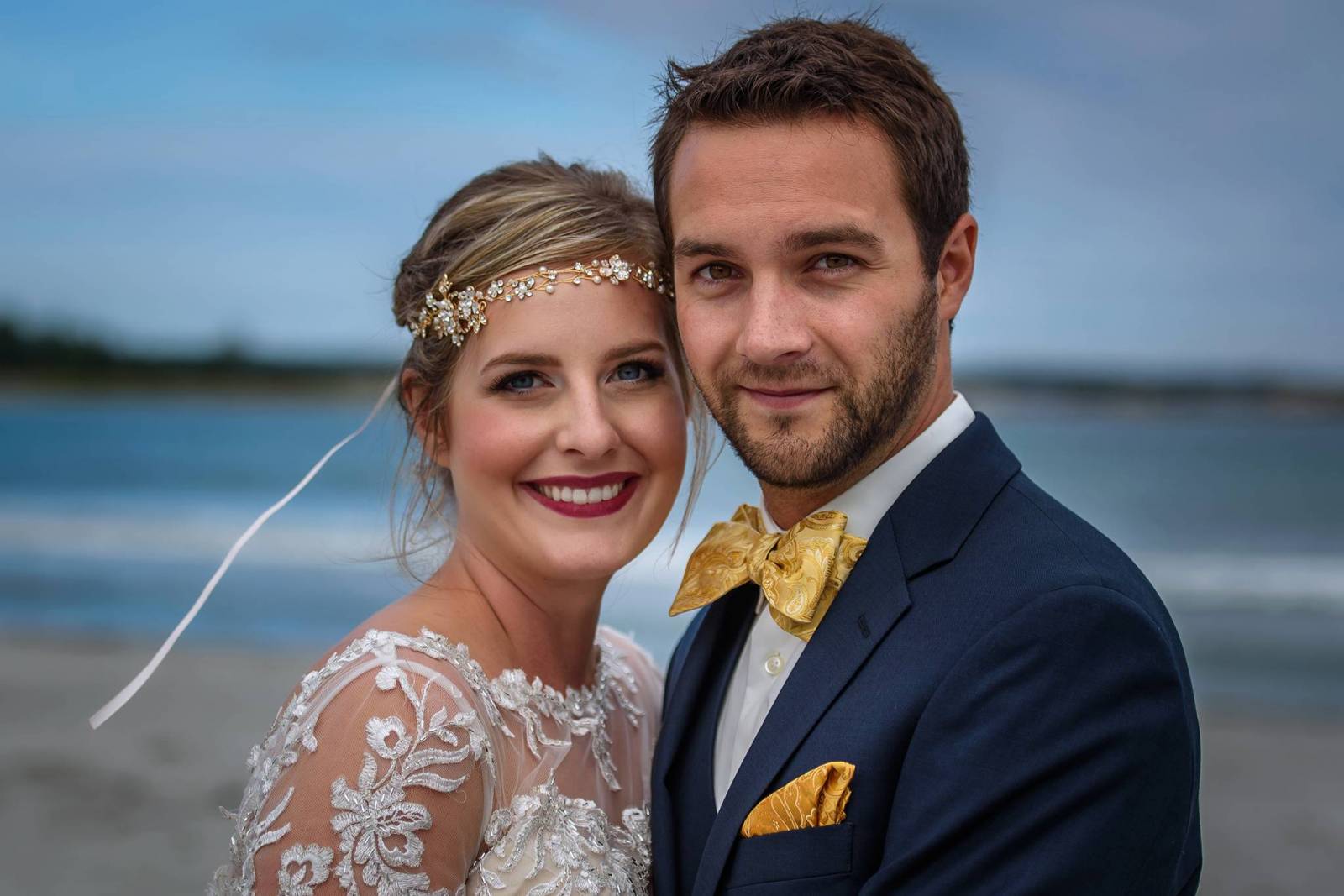 How They Met
Ben and I actually both grew up in rural Liverpool, Nova Scotia. Ben is slightly younger than I am, so we didn't grow up together necessarily and we always had different circles of friends. We worked together for two summers at The Quarterdeck - a beautiful beachside restaurant in Summerville (just outside of Liverpool). During the second summer, we both became single and sort of noticed each other. We were just friends for a few months, and supported each other through some difficult times. Over time, we realized that we had so much fun together and made each other laugh. It was infectious! We just couldn't be apart. We've been together now for 7 very happy years.
The Proposal
It was a regular Saturday morning in October 2015. We woke up on a beautiful fall morning, made pancakes together and cuddled on the couch in our sweats, watching Netflix, while we drank our coffee. We were discussing our Halloween costumes. I decided to be Kurt Cobain, since my hair was far too similar in style and colour to NOT be Kurt Cobain, and we were discussing how Ben could transform into Courtney Love (rather than going with his original idea of being Mr. Clean ...) He lost his long 80's rocker wig during the summer months while jet skiing with friends (that's another story.)
Ben decided to get a shower, so I stayed on the couch and looked at some emails. I heard the water stop, and a few minutes later, Ben came out of the washroom. Just picture this: he was wearing a pink & black feather boa, teal splash pants, a muscle shirt, and yes ... a long, blonde 80's wig. He blasted Def Leppard's "Photograph" on the Bose speakers and started to dance around the living room. Needless to say, I thought he was up to no good and I wasn't really feeling his vibe as I sat in my Roots sweatpants. I laughed at him and asked if this was a costume preview? He didn't reply, and kept dancing. He proceeded to wrap the boa around my neck, feathers were flying everywhere and just then, he ripped those teal splash pants off to reveal a pair of WAY too big and not-so-tighty-whities. Written on the undies with a sharpie, said "WILL YOU?" on the front, and as he turned around, they read "MARRY ME?" on the back. He got down on one knee with the 80's wig, muscle shirt and old man underwear and pulled out a beautiful Vera Wang engagement ring (which he completely picked out himself! I had no say at all!) and asked me, hands shaking, to spend the rest of my life with him!
It so shocking & exciting! Ben said that his favourite thing in life is making me laugh, and wanted to create a unique proposal that would give me a hilarious story to retell. "Photograph" is one of our favourite songs. Ben and I share a love of the same type of music, which is one the reasons we clicked so well when we started dating. We ended up playing "Photograph" right after our ceremony, as we walked (more like threw our arms up in the air and ran like crazy people) down the aisle as a married couple!
Wedding Decor & Colour Choices
We decided to go for an enchanted forest look for our wedding. I've always loved the idea of a magical looking wedding, with lights and lush greenery everywhere. I also love rich colours. I wanted something different than the norm, without looking strange. After some research on Pinterest, I decided I wanted to go for a palette that consisted of dark blue, black, blush pink, ivory and gold. If we had decided on an elegant venue, I think I would've gone for a black and gold wedding. Ben, his groomsmen and my bridesman (Blair) wore dark blue fitted suits (which they bought - much better than rentals because you can get them tailored) with off-white dress shirts and bowties. The groomsmen had dark blue bowties and Ben and Blair wore gold ones. The bridesmaid's all picked out their own gold dresses - I wanted to make sure they could wear them again to another occasion and I liked the various styles and shades of gold. Ben and I were were striving for a unique, non-traditional wedding.
Favourite Moments from Our Wedding Day
Our Justice of the Peace encouraged us to take a moment, under the arch that Ben built for our wedding, to pause and reflect to take in the moment just before saying our vows. We took a few long seconds to turn around and make eye contact with our guests. I still vividly remember that moment because I got to see the emotion in everyone's faces.
During our first dance, we played Coldplay's "Sparks" and one of my bridesmaids, Jennie, simultaneously had everyone pass out and light up sparklers. As Ben and I were dancing together, we looked around at a sea of sparklers and it was the most magical moments of my life.
Advice for Other Couples
Just remember that it's true that if something gets missed on your big day, none will be the wiser. You will probably notice (I know I noticed a few things!) but literally no one else noticed or cared. Also, take moments to step away from the chaos and take it all in. Feel the moment - the smells, the emotions, watch your guests laugh and talk ... just take those small moments in. It goes by so fast. Finally, pay the big bucks for an amazing photographer because those are the memories that will last forever (I recommend Ash + Rich who work for Applehead Studios).