Have you ever had a moment where you've looked at a photo and felt everything captured within it? When I saw Kassia and Cory's engagement photos grace Leslie Estelle Photography's social media, I immediately felt their fun loving and adventurous presence. I could feel the warmth from the setting sun, the chill biting the fall air, and the stillness of the lake.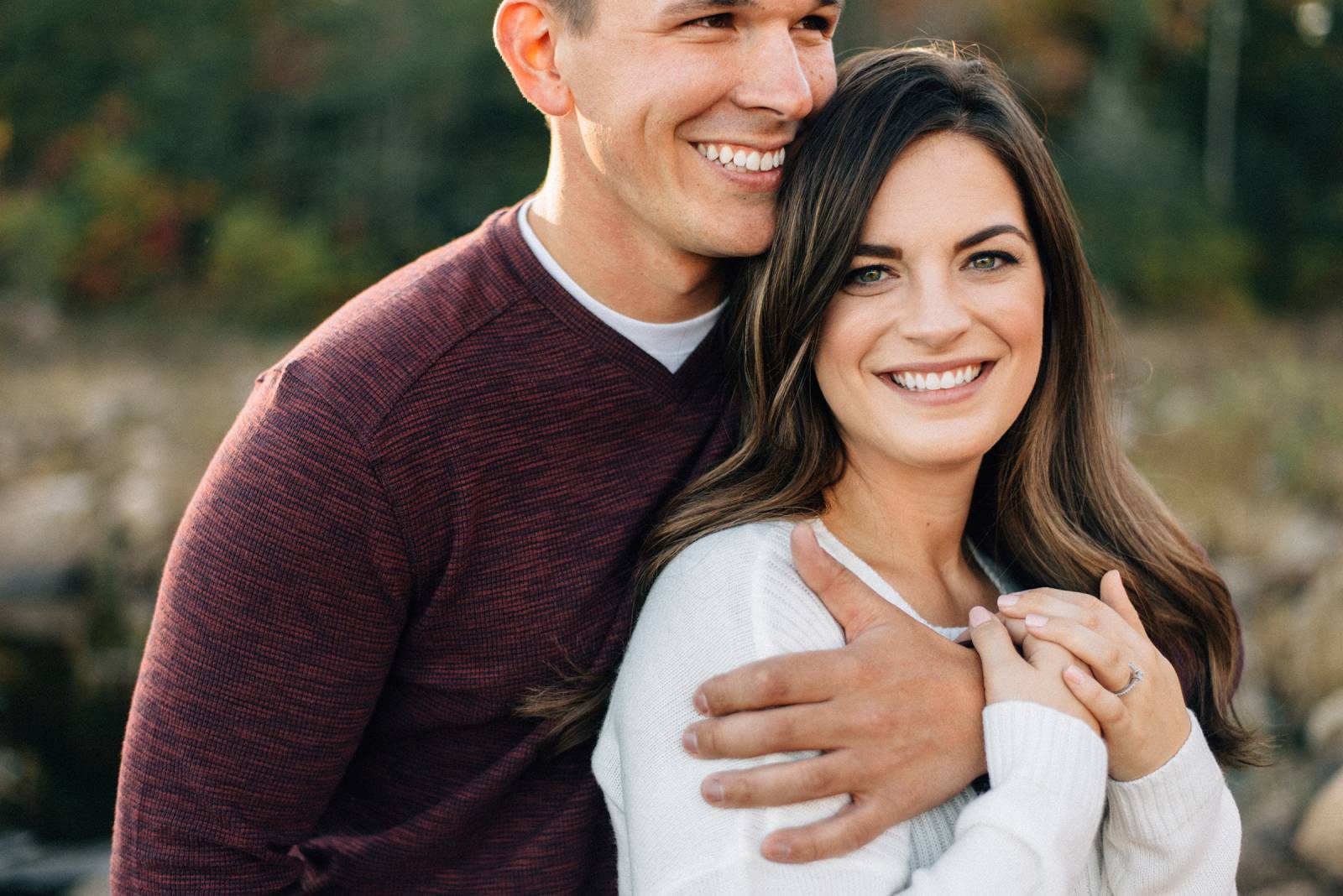 From the Bride-to-Be, Kassia:
How They Met
Cory and I first met when we were nineteen on the dance floor of The Dome. For anyone who is not familiar with this establishment, The Dome is one of the dirtiest bars in town, but almost certainly the one you will find yourself at near the end of a night out clubbing. Phone numbers were exchanged and I returned to Acadia University in Wolfville in the Fall. Cory and I stayed in contact and became really great friends over the three years that followed. When I graduated from Acadia I had made the decision to move back to Halifax, and Cory and I began spending more time together.
One evening Cory landed at my door step after work suggesting that we grab a quick bite to eat. We went to several restaurants and were unable to get a table anywhere without at least an hours wait. It was during the tall ships festival so, instead, we found ourselves down on the waterfront chatting with tourists and dancing to a band at the Lower Deck, laughing til it hurt. It was one of the most random and spontaneously fun dates I'd ever been on. Looking back, I think it was also the exact moment we began to realize our friendship had evolved into something more.
How Cory Proposed
Cory proposed on a Sunday morning in our kitchen over cups of coffee. We had been having a conversation about how much we'd gone through in the past several months - it had been a really challenging time for me career wise and we had been struggling to spend quality time together between work, family and finishing our house renovations. I was in the process of telling Cory how thankful I was for his support and strength through everything that he interrupted and said he'd been "carrying something around" for the last couple of months just waiting for the perfect moment, but the moments kept passing him by. He knelt down on one knee and pulled this ring (which was loosely being stored, I might add) out of his sweatpants. Cory's spontaneity caught me off guard yet again, making it all the more sincere and heartfelt.
From the Photographer, Leslie Estelle Photography:
I met Kassia and Cory early this year. As soon as I sat down to meet with them I felt a sense of warmness. I instantly connected with them. As a couple, they are adventurous, love spending time with their pup, and are very supportive of each others dreams. As I get to know them more and more I feel like we've been friends forever. Hearing about their love story and their lives I can sense the passion, dedication and love that they share. It is so inspiring (it gives me chills). This engagement incorporated a warm sunset shoot at Long Lake Provincial Park. They love nature and it is a beautiful location that they love taking their pup to run free. It was completely suited their lives and interests. I loved every minute of it.