Nikki and Matt's urban garden wedding at the Prince George Hotel in Halifax, NS reflected the couples wedding vision perfectly - they love the city life yet wanted an environment that was surrounded by beautiful florals and landscaping while still being in the center of the city.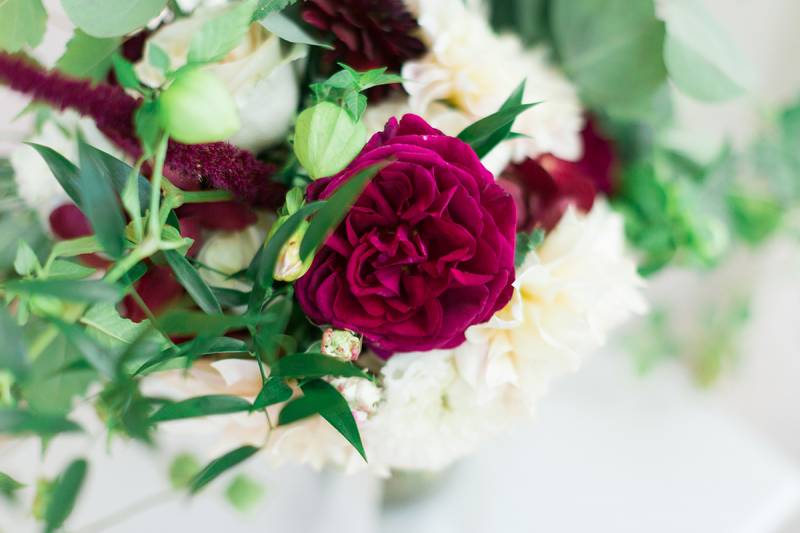 Inspiration
I was drawn to the idea of an urban garden vibe because we're city dwellers and our home is full of plants. The patio at the Prince George Hotel was the perfect setting to pull that together with its downtown location, landscaping, brick walls and metal finishes. We used it for our ceremony and cocktail hour. I fell in love with the spectrum of shades between dusty rose and marsala because it felt versatile enough to go with our yellow gold rings, my champagne-coloured dress and Matt's royal blue suit. Finding my shoes sealed the deal on colour choices.

Personal Details
Matt's mother made the cake and my mother made the favours! My tough guy dad cried the entire time. Both my brother and Matt's brother were in the wedding party as well as our best friends. Our giant, lovable and hilariously unruly young dog Norman (1 y/o) had to be a part of our big day. I also made sure my 10 year-old cat Floyd was in a few pictures too.

Favourite Moment
The ceremony when we exchanged our own vows. It actually felt like it was just the two of us! Matt's vows were so sweet. He's an engineer and I'm a communications professional. He chose numbers and I chose words. But in our personal lives, he's so much better at expressing love than I am and it was no different on our wedding day. He's definitely the romantic one.

Advice
Everyone will tell you to have fun and enjoy every moment, and you definitely should! So, I'll offer something else: if you're having an outdoor ceremony and an indoor dinner reception, try to plan dual-purpose décor elements to make your reception space ceremony-friendly in case of rain. We included a head-table backdrop that would work as a pretty ceremony backdrop if we needed to move inside. The floral arbor for our ceremony was also incorporated into our head table backdrop, so it was designed by Sky's the Limit to be moved quickly and easily. The best part was that none of it broke the bank. In fact, we saved by using a space we already had booked instead of paying for and decorating a different back-up ceremony location. It may have been the easiest budget decision I made!