Today's wedding advice comes from Styled in Lace vendor guide member Chantelle Brown. Chantelle is a mobile makeup artist based out of Halifax, Nova Scotia, and also services most of the Maritime Provinces. Today she's sharing her advice on why you should hire a makeup artist and how to pick the right artist for your wedding!
From Chantelle Brown Makeup Artist:
Have you thought about hiring a professional makeup artist for your wedding day? We'll I'm here to give you my opinion on the subject!
You could do your makeup yourself, so why should you hire an artist?
1. Knowledge is power.
A professional makeup artist is trained on how to highlight and contour in just the right places. Bringing out your best features and covering up any blemishes that showed up the night before your big day.
Quick Tip: Did you know that wearing a foundation with an SPF in it can actually make your face appear several shades lighter on camera?
2. Your wedding party will be picture perfect.
Does your sister love thick black eye liner and a bold red lip? Does your best friend prefer a no makeup approach? A professional makeup artist will take everyone's opinion and personality into account to create a uniform look for the entire party.
3. You deserve it.
You spend so much time planning and spend a lot of money on your venue, the flowers, the dress, so why skimp on your beautiful face? Although you may look beautiful on a day to day basis with your mascara, blush and gloss, for your big day hire someone who specializes in makeup for photography so you're guaranteed to look your best!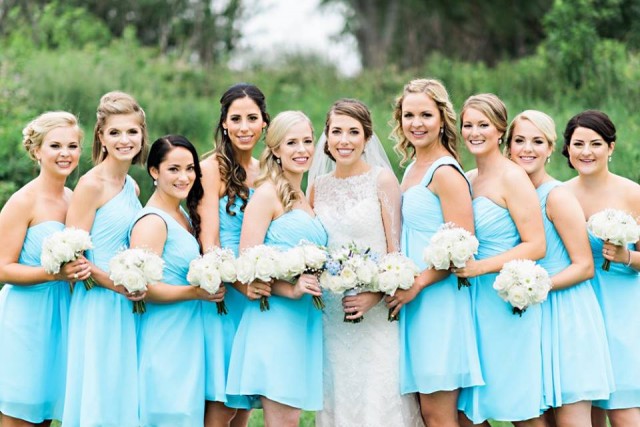 How to choose the makeup artist that is right for you.
1. Ask around.
Have you recently been to a wedding where the bride looked absolutely stunning? Let her know and find out who did her makeup!
2. Look for reviews of makeup artists in your area.
Look at their portfolios and see if their makeup style matches your own. Watch for things like skin tone matching and attention to detail – do not ignore what looks like a red flag.
3. Education and Sanitation.
For me, the two go hand in hand. Are they educated on how to properly sanitize their products or are they reusing mascara wands, putting dirty brushes in with the clean ones, etc.
4. Personality.
You will be spending the entire morning of your wedding with your makeup artist. She will most likely be in the room with you getting ready and may be one of the first people to see you in your dress, giving you that last swipe of gloss. Make sure to choose someone you are comfortable with.
I hope you found this post helpful, and please feel free to comment below or contact me personally with any questions or comments!